This post is also available in: Bahasa Malaysia Bahasa Indonesia
MYOB Linked Accounts
To keep things simple and easy, MYOB uses linked accounts to complete accounting entries for you.
This means you do not have to understand the concept of accounting, i.e. debit or credit which account, when performing your day to day functions like issuing a sales invoice, making a payment, etc.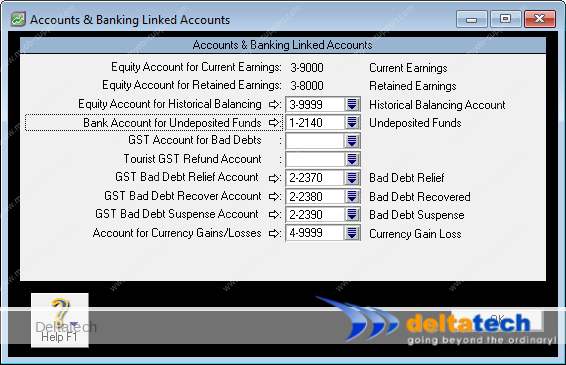 Linked accounts are the default accounts that MYOB uses to complete an accounting entry when you record a transaction.
For example, when you create a sales invoice, MYOB needs to know which account to debit and which account to credit.
Some linked accounts are required.
The account for tracking receivables is one such account.
It's important, therefore to understand linked accounts in MYOB and set it up correctly to ensure that your accounts are correctly maintained.
When you first create your company file, MYOB sets up a number of linked accounts for you.
At the very least, these are the accounts that MYOB needs to function correctly:
| Default account number | Account name |
| --- | --- |
| 1-1100 | General cheque account |
| 1-1200 | Undeposited funds |
| 1-2000 | Trade debtors |
| 2-2000 | Trade creditors |
| 2-3300 | Sales tax payable |
| 3-8000 | Retained earnings |
| 3-9000 | Current earnings |
| 3-9999 | Historical balancing account |
All these accounts can be re-named or re-numbered to make them follow the structure of your chart of accounts.
Or if you prefer, you can create your own accounts and link them as necessary.
For the accounts in italics bold above, the Retained and Current earnings accounts, you can edit and re-number and/or re-name them, but you cannot change the linking.
You also cannot delete these accounts.
Caution:
Ensure that the correct accounts are linked before you start entering transactions.
For example, linking any account other than your Trade Debtors to receivables tracking will result in incorrect accounting entries when you enter sales.
More on Accounts List

MYOB
MYOB Accounting & MYOB Premier
MYOB RetailManager