This post is also available in: Bahasa Malaysia Bahasa Indonesia
Upgrading MYOB Accounting and MYOB Premier
This knowledgebase articles applies to MYOB Accounting and MYOB Premier.
This knowledgebase article has been updated with video tutorials that cover upgrading to newer versions of ABSS Accounting.
Upgrading MYOB to a newer version is a 3 step process:
Install the new version of MYOB
Upgrade your company file(s)
Upgrade your forms/templates
Before you upgrade however, there are a few things you must do.
Please read through before going on to the next step.
When you upgrade MYOB, i.e. install a newer version, for the most part, a new program folder is created.
For example, if you are currently using MYOB Accounting v21, it will be located on C:\Accounting21, and you are upgrading to MYOB Accounting v24, it will be installed at C:\Accounting24.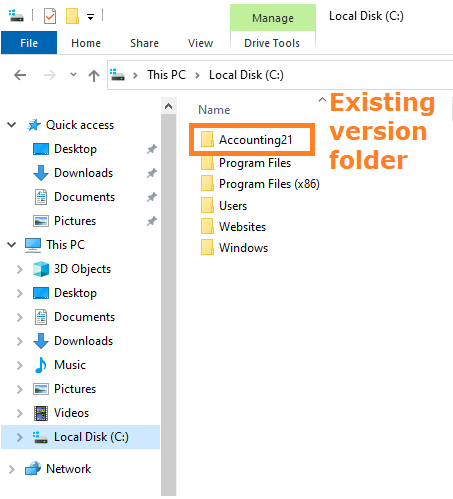 The newer version, therefore, does not overwrite the existing version.
In some cases, where there is a minor upgrade, the new version might install on to the same folder.
Backup
It is therefore always good practice to perform a backup before installing any newer version.
Ideally, you should:
Backup your company file
Backup your forms and custom reports
Forms and templates
The forms and custom reports are located in your MYOB program folder.
For example, if you are using MYOB Premier v16, then, the forms and custom reports would be located in C:\Premier16 as shown in the image below:
When making a backup before upgrading, select the Backup all data option in step 2 shown in Backup MYOB data to be sure you have a copy of all the necessary data, forms, etc.
If you are using MYOB Premier, ensure that you make a copy of the forms and templates on each of the computers where MYOB is installed.
Install the new version by following the steps shown in Installing MYOB.
Once installation is complete, your next step would be to:

Archives – MYOB
MYOB Accounting & MYOB Premier
MYOB RetailManager