This post is also available in: Bahasa Malaysia Bahasa Indonesia
Upgrading your MYOB company file
This knowledgebase article has been updated with video tutorials that cover upgrading the newer versions of ABSS Accounting.
Once you have installed the new version of MYOB, the next step is to upgrade your company file so that it can be used with the upgraded version.
There are 2 ways to achieve this, by opening the file from the new version, or using the MYOB Upgrade Assistant.
Both ways achieve the same result.
It is not recommended to upgrade your company file over a network. If your company file is located on a server or another computer, it is best to copy the file to the PC where MYOB is installed, do the upgrade then copy it back to it's original location.
Upgrading by opening your company file
Start your new version of MYOB
Click on Open in the Welcome screen
Browse to the folder where your company file is located, select it and click Open
Provide your User ID and Password (if any) and click OK
You will be prompted that MYOB is unable to open the file as it has not been upgraded for use with the newer version as shown in the image.
Click on Yes
Upgrading using the MYOB Upgrade Assistant
To start the upgrade assistant, navigate to your new MYOB application folder, and look for a file named "MYOBPUpg.exe".
Double click this to start it.
At this point, you can choose to save in the same location or in a new location.
If you choose to save to the same location, change the name of the file.
We usually add the version number at the end of the file name so that we know which version it is.
For example, if your old company file is named "air jernih.myo", name it "air jernihv16.myo".
This makes it easy to differentiate the versions of company file that you have.
Remember to make a note of where you are saving the upgraded file to so that you know where it is when you need to open it.
Click Next to review the selections you made.
When upgrading your company file, MYOB does not overwrite your existing file.
Instead, a new file is created.
You must select either a new location to save to, or change the name of the file.
If you try to save to the same location, with the same file name, you will receive this error message.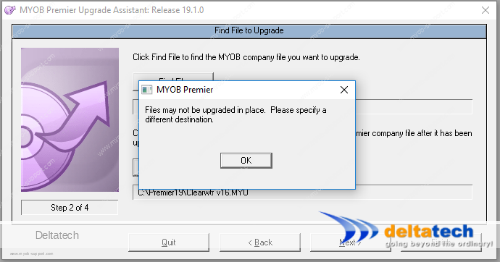 In the event you encounter an error during the upgrade process, simply start over and select the old company file again.
If you are using MYOB Premier in a multi-user environment, note that the company file only needs to be upgraded once.
All other users share the same file so once you upgrade it, it is done for all users.
More on upgrading MYOB:

Archives – MYOB
MYOB Accounting & MYOB Premier
MYOB RetailManager