To close your financial year, carry forward your balances and start a new year, start MYOB and open your data file.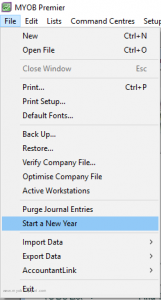 Next, click on File at the top, then Start a New Year
Backup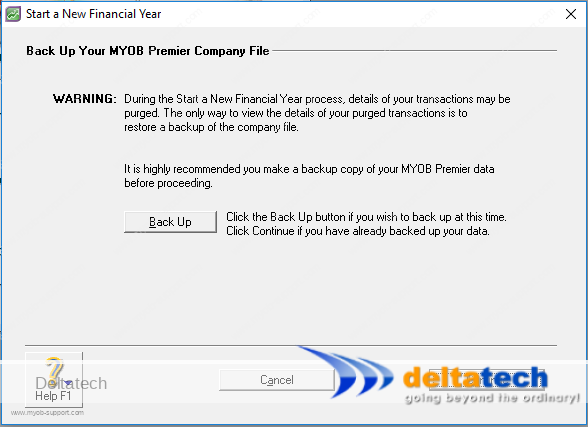 It's always a good idea to take a backup before starting any process like Start a New Year in MYOB.
Click the Back Up button and follow the steps shown in Backup MYOB data.
After backup, click Continue.
Start New Year process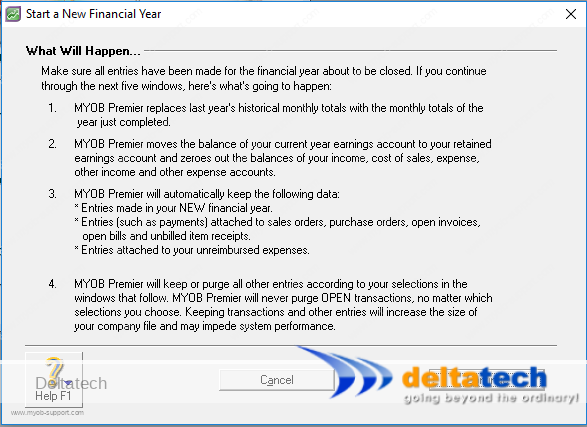 The next screen explains the processes that will take place during the Start a New Year.
Click Continue.
Define New Financial Year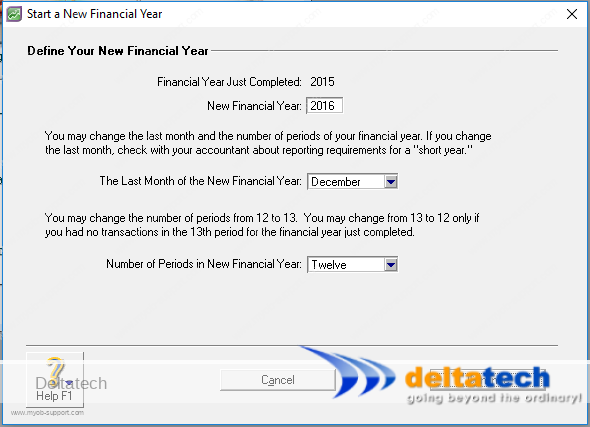 In this screen, you will see:
The year you are about to close.
In this case, you are closing the 2015 financial year.
The new financial year which is 2016.
Note that this is the end of the financial year.
If your financial year is from July 2015 to June 2016, then this entry should be 2016.
If in doubt, check the year on your audited accounts.
The year here should be one year after the year shown there.
Last month of the New Financial Year. In this case it is December because the financial year is from January to December 2015.
Yours may be different, e.g. July to June, so the month here would be June.
The number of financial periods. This is usually 12.
Click Continue.
Receipts & Payments processing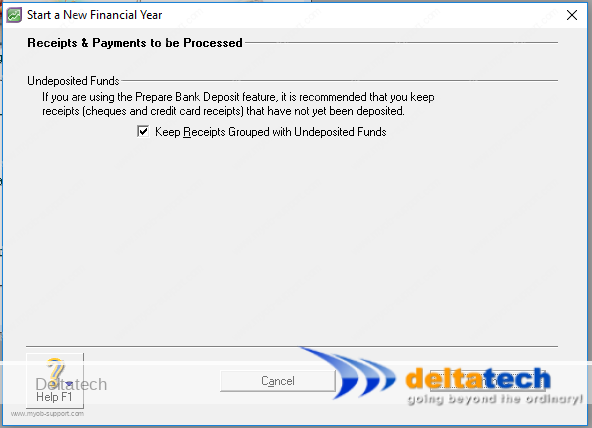 This next screen refers to receipts that have been recorded using Group with Undeposited Funds.
Receipts like these are pending deposit to one of your bank accounts.
Whether you use this feature or not, tick this box.
Purge Audit Trail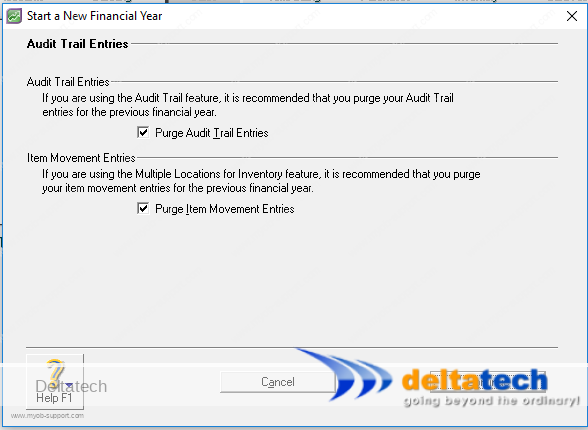 Audit trail entries, and,
Item movement entries – MYOB Premier only
You can select to keep these or purge them.
Ideally, you should select to purge these entries, as it is for the financial year that you are closing.
Keeping the transactions will eventually cause your data file to become unnecessarily bigger and may eventually affect the efficiency of MYOB.
Click Continue.
Closed transactions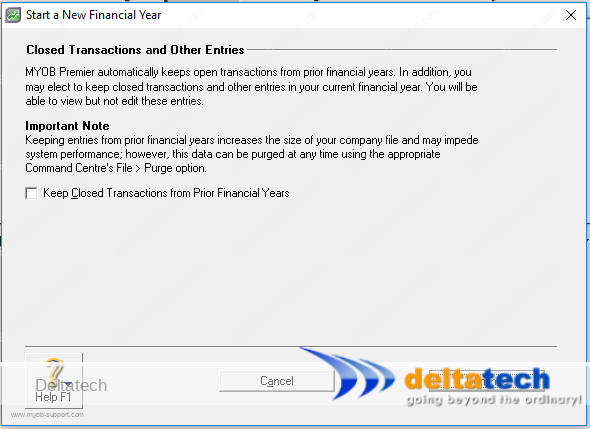 Usually, closed transactions are purged or removed from the data file.
You can choose to keep these transactions if you wish.
If you keep the transactions, you will be able to view but not edit them.
As with the above step, keeping these transactions will only make your data file bigger and may eventually affect the performance of MYOB.
We advise to purge these transactions as, if necessary, you can resort to a backup for details if necessary.
Unreconciled transactions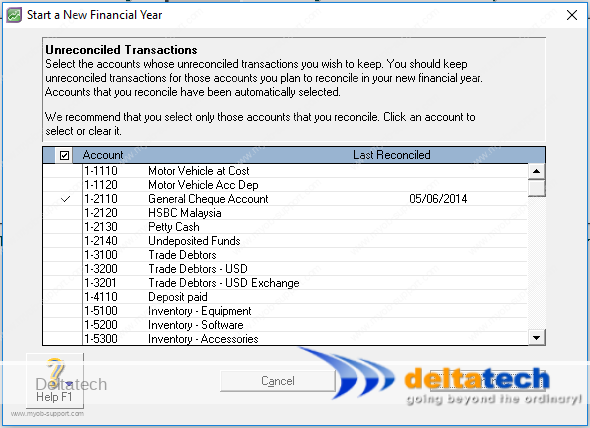 This generally refers to transactions in your bank accounts that have not been reconciled.
These include cheques paid out not presented and receipts that have either not been banked in or not cleared in your bank account.
Make sure to check against each of your bank accounts.
Click Continue.
Final step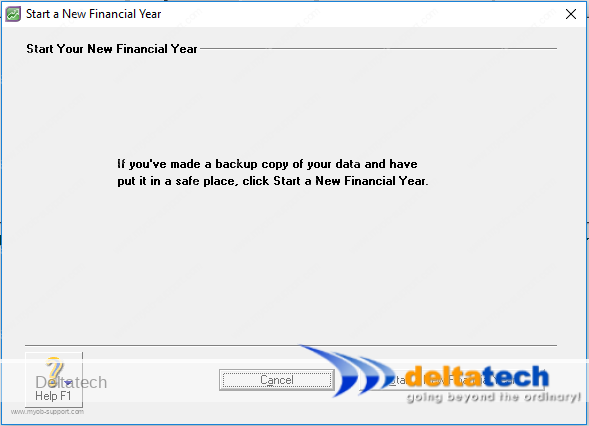 If you have already backed up your company file, then click Start a New Financial Year.
It's always good practice to have a backup in case something goes wrong or you need to undo the process.
If you have not backed up yet, click Cancel start the process again and select to perform a backup in the first screen.
Start New Year process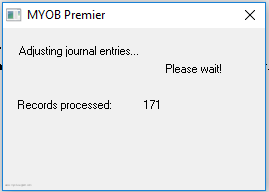 MYOB will begin the process of starting a new financial year.
Once the process is complete, you will be taken back to the Command Centre.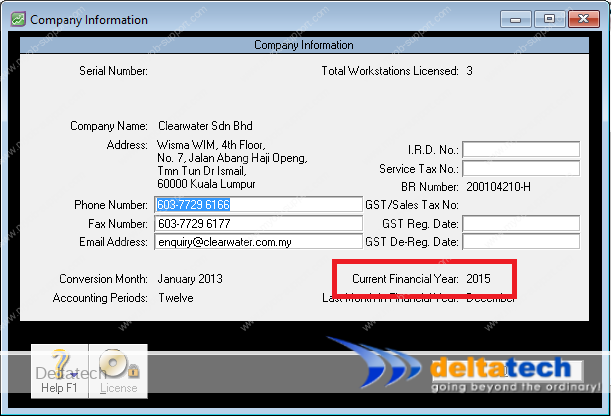 You can verify that you are in a new financial year by clicking on Setup->Company Information.
The Current Financial Year is shown at the bottom right.